Prurient – And Still, Wanting
2009/09/28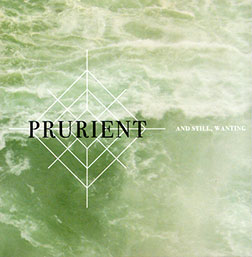 Prurient is Dominick Fernow from New York in the USA. He is a prolific and influential noise artist who has been active since 1998. Although he owns his own label: Hospital Productions, this album was released by another New York label: No Fun Productions.
And Still, Wanting … is defined by slow menacing soundscapes crafted from harsh noise and haunting drones. Spoken word vocals surface through gaps in the noise and feel so close it's as though Domninick was standing right next to you. At times oppressive, it has a dense, melancholy and strangely—for power electronics—an intimate ambiance which is skillfully balanced with blistering noise. It is this balance that makes Prurient such a unique listen.
It is difficult find a single genre that this album fits comfortably into, each track contains elements of dark ambient, industrial, power electronics and harsh noise—most leaning towards the latter. It makes me think of a harsher Navicon Torture Technologies.
Memory Repeating breaks in the album with excellent uncompromising harsh noise and—while the noise catches it's breath—Dominick speaks softly to you. The second track, Returning Truth, continues the noise, but now is backed by a simple tune. The vocals have become much more distorted, and a sense of desolation sets in. The fourth track, Lust End, reminds me of black winter nights, thundering storms racking the countryside. Incense and Rubber the seventh and last track is also the only instrumental track, consisting of beautiful drone work juxtaposed with rasping metallic samples.
This album is rich and rewards repeated listens. It's the combination of solid noise with haunting drones that keeps me coming back for more. Highly recommended for lovers of newer style power electronics and especially fans of NTT.
—Rudolf Vavruch (Krokodil)
Links
No Fun Productions
Hospital Productions