World Goth Day 2012
Saturday, 26 May 2012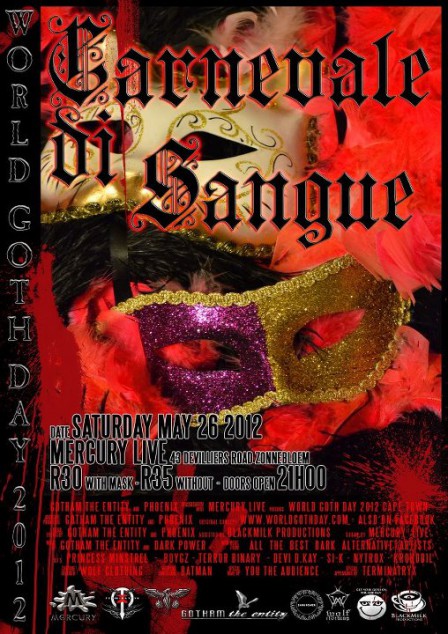 Ask anyone who went, last years world goth day party was fantastic. This year we are aiming to make it even bigger.
World Goth Day Cape Town will be happening at Mercury. 2 dancefloors: Gotham the Entity, Phoenix and Dark Power have joined forces to bring you a night to remember.
Wolf Clothing, Terminatryx, BLACKMILK and possibly more, have come onboard to help make this party unforgettable.
This year's theme is Carnevale di Sangue (Carnival of Blood)… It is a masked ball in the Venetian tradition. Masks are required on entry – if you don't have a mask we will have some at the door at a small surcharge…
So think flowing gowns, head-pieces, masks & capes… and of course.. blood…
Dark Power will be playing as usual:
Rhythmic Noise / Terror BM / Power Noise / Aggrotech / Harsh Industrial / Death Electro
At Mercury Live & Lounge (43 De Villiers Street, Zonnebloem, Cape Town). Doors open at 9pm.
Find out more on facebook.com.