Nadja / Troum – Dominium Visurgis
2010/11/07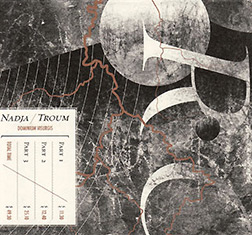 Nadja is : Leah Buckareef and Aidan Baker
Troum is : Martin Gitschel and Stephan Knappe.
I am not familiar with Nadja but do know that their ethereal approach and innovation are well known.
Troum (formerly Maetor Tri) are well known for their dark atmospheric drone-industrial soundscapes and I have never heard an even indifferent track from them.
This CD consists of 3 long pieces. Track 1 is ethereal and melodic. Track 2 dark, atonal, distorted, multi-layered and intense. Track 3 is dense and complex with at times entwining soundtracks underpinned at times with black industrial drones and ending in reverberating melodic sound walls.
In all this contemplative CD is a masterful collaboration between two deservedly respected bands.
The music was a spontaneous improvisation recorded near Bremen, Germany in 2008 though published only now. The music is presented as is with no overdubs or any kind of processing.
It warrants intense listening and it will be one of those milestones which will stand the test of time.
—Rolf Rawe (Holy Shit)
Links
Nadja
Nadja on MySpace
Troum
Troum on MySpace
Drone Records