Hocico – Tiempos de Furia
2010/10/05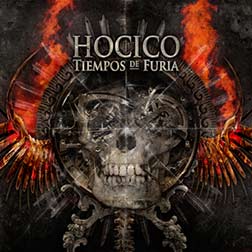 I have to say…I love Hocico.They were the band that got me into all things electronic. Anyone that knows me well enough will tell you I'm a HUGE fan of this iconic duo. They've endured all these years and have provided some of the most consistently edgy and aggressive electronic music around. Mexico has been the backdrop and inspiration for their hard-hitting, potent lyrics as well as the raw, powerful beats and dark synths that make a Hocico record. Recently, the lads relocated to Germany-closer to their label and pretty much to have their base-of-operations within the place where its always been happening for harsh music.
With the release of their 6th album Tiempos de Furia [which translates to Times of fury, a suitable title indeed], you'd be highly mistaken if you thought these legends were going to mellow-out. 2008's Memorias Atras was a rather laid-back and mid-tempo affair compared with most of their previous works. Naturally…I still enjoyed the album, but it was lacking the usual venom and fury I'd come to expect from these Mexican upstarts. As soon as I started listening to Tiempos de Furia, I could feel the old Hocico was back. But an improved, mature Hocico that has harnessed all the experience and skills over the years.
I want to go to hell starts the album in brilliantly trademark fashion with an imposing synth that bursts into a huge pummeling throb that will have dancefloors exploding with vehemence. Where words fail, hate speaks brings to mind days of old with its relentless barrage of aggrotech beats and highly belligerent vocal delivery. Loyal followers and regular dancers to my DJ-sets will already know Dog eat Dog from the EP released in August. All in all, 13 tracks make up the album along with a bonus CD A call for destruction that contains two additional tracks and two remixes. Thats an impressively meaty collection of new material that certainly doesn't let go of you until the very last minute. Practically every song is dance-floor worthy and yet listenable at home as well for those of you who don't like the clubs. Hocico have reallly hit top form here, I dare say this is the culmination of all their previous works and the pinnacle. Electronic album of the year for me…A true masterpiece that is completely peerless.
—Kevin King (Terror_Binary)
Links