Xotox + Detune X – We are Deaf
2010/11/15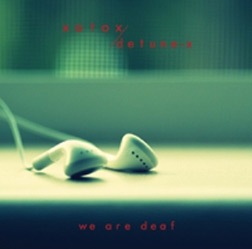 Xotox is : Andreas Davids
Detune X is : Stephano Rossello
I have had my eye on Xotox for a while but was awaiting new material, so far nothing. Instead I ordered the above cd which turned out to be a good buy.
The rhythmic and often tuneful Xotox music meshes well with the pounding rhythms which are often underpinned by industrial background noises of Detune X.
This CD has 2 tracks each of both bands followed by two tracks each of each others re-mixes and finally two tracks where both play together. Most of the CD is dance floor orientated but complex enough to also make for enjoyable listening.
You will hear some of the best tracks at the next Dark Power party!
—Rolf Rawe (Holy Shit)
Links
Xotox
Xotox on MySpace
Detune X on MySpace
Rustblade Records