A7IE – The Shattering
2010/07/14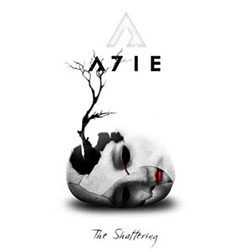 The much-anticipated second album by A7IE finally arrives. Debut 'Distress' was released in 2007 to critical acclaim and established this artist as one of the most exciting new acts to emerge. Three years have passed and 'The Shattering' is here to storm alternative clubs across the globe.
The formula is much the same as the debut album. Synth-driven, powerful and well-written harsh-ebm is the order of the day here. 'Some kind of hate' definitely caught my attention upon initial listen with its brooding and promising intro leading into very danceable rhythms that make this song very club friendly. 'Angels [Dancing in the dust]' has a very catchy, instantly likeable melody that continues to flow throughout the duration of the song.
Throughout the album there is alot of balance between slower, atmospheric tracks and dancier, club orientated ones. Remixes are by PreEmptive Strike.01, Aktive:Hate, Sadiztik Injection and Adeonesis. 13 Tracks overall. A better-constructed album compared to its predessesor in every aspect, this would be a fine addition for any fan of the darker, harsher side of EBM.
—Kevin King (Terror_Binary)
Links