Dark Power in the news!
2011/05/10
In 2009 a local newspaper wrote an article about Rolf, Jacqui & Dark Power.
—
The venue at Gotham is dark, the clothing black. Four DJs take turns mixing and spinning power noise, electronic body music (EBM), agrotic [sic], industrial, neo folk industrial and black industrial music to get the dance floor pumping until the wee hours. The house is full.
One DJ in particular stands out. His time slot is usually between 2am and 4am. He has a special mix of sound that has evolved from the permutations of alternative music since the days of metal and hard rock. His name is Rolf Rawe or rather "Holy Shit" partly because of the hardcore music he puts on the floor but mostly because he is 70 years old.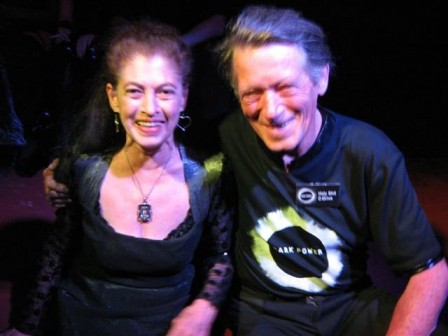 Rolf and his wife, Jacqueline, 65, from Duinefontein are central to this scene. After being involved in the alternative music scene for 15 years they of hearing the same old sounds.
Two years ago they started Dark Power and with the help of like minded DJs decided to bring new fresh, vibrant, exciting alternative music from Europe to the club scene, particularly Gotham, on a bimonthly basis. At these parties you hear sounds you have never heard before.
Married for 45 years, they say they have always lived outside of the box. Rolf says their world view clashes with conventional society and they have lived a self sufficient lifestyle by choice. They had two daughters, but one died at age 21. Since then they have lived life to the full and squeezed every drop from its fragility.
Jacqueline says she's the rock 'n roll chick and sees no reason to stop enjoying the music.
Rolf used to hate dancing and was originally into jazz, but they both soon got bored with commercial sounds.
"You just hear the same old stuff over and over again," says Jacqueline.
They believe age is in the mind and most of their friends are aged between 20 and 40.
"We enjoy them because their minds are still open. We have discussions on all spheres of life," says Jacqueline.
Rolf adds that people their age should be wise, but instead too many just become old fools.
"They are more concerned about their neighbour mowing the lawn. 'I'hey worry about unimportant things and should get on with the business of living. You have got to have fun."
"l will never give up dancing, music and new stuff. It is nonsense that we are too old," insists Jacqueline.
Rolf imports alternative music from Europe and they socialise and share this music with alternative DJs in Cape Town.
It started when metal music caught Rolf's ear.
"SA is stuck in the music scene. But things have moved on musically and nobody here has caught up yet. We've kept up and are moving ahead and have discovered music most don't know of."
They admit finding themselves in a "bizarre" position. "We are trying to rescue the alternative scene that is dying on its feet. We don't want to hear old stuff. We don't want to hear commercial stuff. We are not stuck in a groove and are reviving the alternative scene so youngsters can get back into the real scene," says Rolf.
Jacqueline selects the DJs who relate to their music to get the scene out there. Their alternative sounds are an amalgamation of techno and instruments as well as Gothic dance sounds. lt's a sound that's interesting on the ear — no screamo or heavy metal — just transcending and divergent sounds paced with quiet intensity and dramatic explosiveness with more beat than melody.
"Some think it's weird of us — I think it's wonderful. You come alive to new expression. Dark Power is the only place you can hear it. We are not giving this up," says Jacqueline.
And when this couple are not dancing the night away to alternative music you will find them out hiking up and down the West Coast. Rolf is also a talented painter who specialises in landscapes.
The only reminder that time has moved on for this couple is that Thursdays are still pension days.
To find out more about their hardcore, industrial, power noise, electronics, EBM and dark ambient music parties visit www.darkpower.co.za
Photo by Yvette Demas