Unit:187 – Transfusion
2012/03/27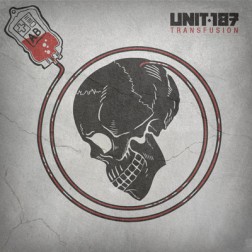 Unit 187 was founded in 1994 in Vancouver, Canada by Tod Law and John Morgan, as well as Front Line Assembly's Chris Petersen and Ross Readhead, who has recently joined the band full time.
Following their fourth album Out for Blood, comes Transfusion, featuring remixes by various artists including Mono-Anime, Rom Di Caprisco (videogame music creator), 16 Volt, Necroteck, Mindless Faith and iVardensphere to name a few.
The first track, Rolling Vengeance remixed by Hiwatt Marshall & Cevin Key, starts the album with a slow paced head nodding beat with electronic riffs, while the second track Threatened (remixed by Rom Di Prisco) has a more upbeat electro style to it. Track five, eight and twelve has a bit of dubstep/electro similarities to their styles, whereas the other tracks differ from slow growling tones with riffs, to slow atmospheric beats.
If you are familiar with Unit:187's industrial metal sound, don't expect anything harder on this album.
If you can stomach electro music with/and dubstep style similarities this album will probably make your head nod with the slow but strong beats.
To those who like to move with the beat it is a good opportunity to save the soles of your dancing shoes and rather sit back and listen.
—Riaan Beukes (S-IK)
Links
Unit:187 Official Website
Unit:187 on Facebook
Vendetta Music