Dead Hand Projekt – The Lost EP
2012/04/12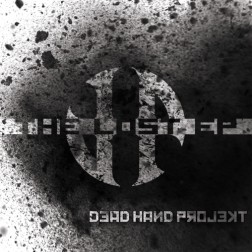 "Come on and play everything is not okay" – aKILLER (track2). In fact everything is great on this EP and surely makes one want to go play on a dance floor, with the speakers cranked up to near breaking point.
If I had to single out a track from the 4 tracks it would definitely be Suck it dry. The song is so well put together, consisting of drop off beats, guitar riffs, synthesizers, drums, gut wrenching vocals, sound samples of a gunfight (my favourite part) and horror style breathing.
This EP makes one sit on the edge of one's chair and wait for the full length album's release date, what a great teaser.
—Phillip Fourie (Nytrox)
Links
Dead Hand Projekt Official
Dead Hand Projekt on Facebook
Vendetta Music