Schwester Seziert – Annexe
2009/08/14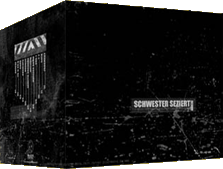 Recently received CD which went down well on the dance floor at the Retox party.
Published by: Mass Control Records, France.
A French production of which I can find no reference anywhere but with apparent links to bands like Tamtrum, Arsch Dolls, Diktat and Slaughter in Art..
An EBM-industrial crossover aimed at the dance floor. The tracks vary from romantic-reflective to hard and fast. also from quite melodic to distorted-atonal reminiscent of Ab Ovo. Two tracks are marred by automatic machine rhythms and simplistic construction similar to Ah Cama Sotz.
Overall a good CD to have with 2 brilliant compulsive dance floor tracks.
—Rolf Rawe (Holy Shit)
Links
Schwester Seziert on MySpace
Mass Control Records
Page on Mass Control Records, including link to interview.