Millipede – Powerless
2014/05/25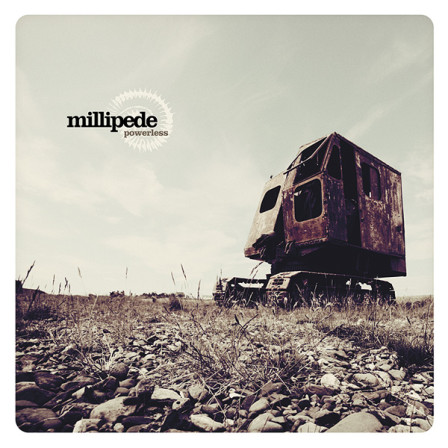 [This article was originally written in early 2013, since then Millipede has put out a number of releases the most recent being A Mist and a Vapour –Ed]
Under the name Porteur de L'Image, Don Hill has been exploring new music software and experimenting with dark ambient since 1998. All My Best Intentions, his first album as Millipede, in which he successfully bridged the gap between rhythmic-atmospheric and dark ambient was well received. Then he went though a difficult time in his private life and only now the above album has been released.
Starting dark and almost depressing the 8 tracks feature a dark ambient background which is however increasingly loosened and lightened with inserts of ibm beats and atmospheric, well placed samples so that the later tracks reflect the concept of light and hope.
The artist employed the assistance of other musician friends on each track so that there is additional input from: Caul – Brian Grover – Access To Arasaka – Lucid Static – Veil of Secrecy – Autoclav1.1 – Parca Pace and Tapage.
This guaranties a superb album of diverse interests and direction, well constructed and composed. In a way it reminds me of Skadi's album Eliwagr which deals with similar personal loss.
This music is in places complex yet minimalistic in the sense that only what matters is included. I view it as one of those albums which one can play again and again without tiring of it. Well done, Don Hill we will look forward to future publications.
Links
Millipede on Facebook
Powerless on Bandcamp
-Rolf (Holy Shit)