Menace Ruine – Alight In Ashes
2013/12/22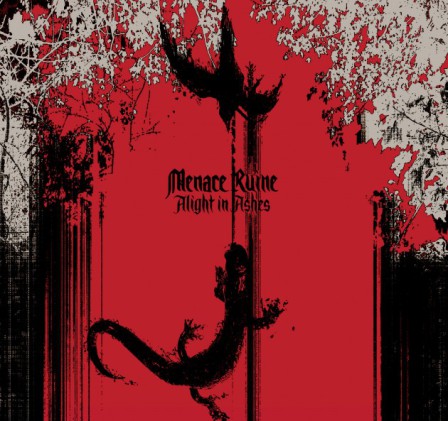 As with many other things musically I have Rudolf to thank for alerting me to this profoundly astonishing band.
Menace Ruine is the duo of Genevieve Beaulieu: composition, arrangements and vocals and partner S.De La Moth: keyboard and vocals. Both from Montreal.
When their second album The Die Is Cast was issued in 2008 many people picked up their ears as nothing sounding like this had ever been heard before. That album was quickly followed the same year by: In Vulva Infernum, then in 2010 by Union Of Irreconcilables and now by the above album. In between there have been a number of concert travels including a European tour.
There have also been label changes and now they are with Profound Lore. A black metal label founded and owned by Canadian Chris Bruni who is known to be endlessly fishing for new and best talent and who is only publishing what is in tune with his ideas of excellence, and prefers a personal relationship with each band or musician.
The music of Menace Ruine is best described as a melange of black metal – dark ambient – drone – doom industrial – martial plus neofolk plus more minor influences. The full throated majestic voice of Genevieve ties the whole together so that it becomes much much more that its parts, a truly organic entity.
Alight in Ashes consists of massive sound walls, imposing and majestic yet lightened with contrasting synth sounds. Always seeking new directions, weaved through with fine harmonies. Yet the whole is atonal and distorted, as mentioned above it is held together with Genevieve's wholehearted passionate vocals which seem to reflect a deep eternity.
The track: Salamandra, constructed on a scaffold of medieval neofolk is a fine gem of ideas, the synth sounds (there are no guitars present in the band) and Genevieve's bewitching, disturbing lyrics entwined thus evoking enthralling daydreams. Burnt Offerings is the darkest and dirtiest piece if a little repetitive. The last track: Cup of Oblivion starts deep and heavy with simulated organ and a solid beat, a third way through this 12 minute piece Genevieve's majestic voice kicks in, eventually linking this to the first track, completing the circle.
This music understands to anchor itself in the emotions and brain of the listener because it reflects and is rooted in diverse levels of real experiences, the depressing and hopeful dreams weaving in and out leaving in its wake a melange of emotional disturbance.
This entire CD has a distinct medieval-neofolk tinge and is another superb example of the two artists.
The last CD which spoke to me at this intense level was Flutwacht – Heroinloops but that told an entire story on one CD.
Menace Ruine has so far delivered consistently with all their publications and judging by this latest CD they are maturing and growing as well so one can expect further amazing creations from those two.
Personally I am placing this among a select few of really really awesome and unforgettable, priceless jewels.
Links
Menace Ruine on Facebook.com
Menace Ruine on Bandcamp.com
Alight in Ashes on Profound Lore Records
-Rolf (Holy Shit)