Kriminal Minds – Resistance Against …
2010/03/14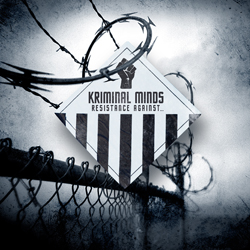 What more can be said about Mexico when it comes to electronic music? So many quality artists have emerged from this country of ongoing oppression and struggle.
Kriminal Minds are another act poised to invade clubs across the globe with their particular brand of hard-edged electro. Under the watchful eye of Rasco Agroyam (Hocico, Dulce Liquido) comes their debut for Out of Line Records: Resistance Against …. The album is over an hour long and comprises of 15 tracks with 4 remixes.
What I find so exciting about this record is the variety on display here coupled with a total lack of fear to experiment and push the boundaries. Elements of power-noise are found in Keep it up and Shock Proof Beat whereas on the track I Can't See You there are some clean vox overlapping a very club-friendly beat.
Comparisons to Hocico must however be made, seeing as the production and overall feel of the album is very firmly rooted in that Mexican Aggrotech style which Rasco pretty much invented. Clever and effective use of synths combined with harsh and catchy beats dominate throughout. I found that every single track here has its own unique character and pulls you in with skillful song-writing and meaningful melodies.
I must say I'm enjoying this album the more I listen to it and I think it's a gonna be a sure-fire hit with fans of this genre. Mexico just keeps on delivering … Gracias Amigos!
—Kevin King (Terror_Binary)
Links
Kriminal Minds MySpace
Out of Line Music
Out of Line album page