Komor Kommando – Oil, Steel and Rhythm
2011/01/27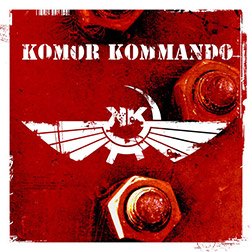 Sebastian Komor is one of the foremost minds in the industrial scene. He's had his hand in many projects over the years such as Icon of Coil, Zombie Girl, and Melt to mention a few.
The Polish born, Norwegian raised musician currently resides in Canada … moving from one cold climate to the next it seems. Komor Kommando is undoubtly his most bombastic and dance-floor friendly project. 'Das EP' crashed onto the scene in 2009 and many of the songs still find their way into many a DJs artillery.
So finally the debut full-length album is here, packed with more beats and snares than should be allowed! A few tracks from the EP make a reappearance such as 'Triggerfinger', 'Das oontz' and the hugely popular 'State of destruction'. But overall, we are looking at 15 tracks here that comprise the whole album. Be prepared for some stompiness when your speakers launch into 'Rhythm Machine' and the likes of 'The Factory Incident'. The song 'Predator' features Sascha from KMFDM laying down the law in typically emblematic fashion.
I have to say when you purchase a Komor Kommando album … you probably know what to expect. An additional disc packed with remixes from artists such as XP8, Detroit Diesel, KMFDM and Kant Kino add to the value. All in all, you're looking at an extensive collection of powerful, expertly-crafted industrial ebm from a man who knows what the people want to hear. Expect some of this stuff to be blasted at the next DARK POWER!
—Kevin King (Terror_Binary)
Links
Komor Kommando on MySpace
Komor Kommando on Facebook
Alfa Matrix