Ghosts of Breslau – Sacred Place
2009/03/03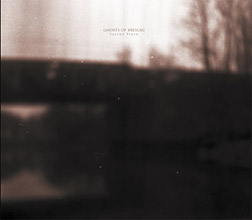 Ghosts of Breslau's third album Sacred Places consists of eighteen pieces collected from compilations, split releases, rare Mini-CDs and never before released tracks.
Kormak's music evokes a dark warmth, fittingly haunting. A gritty sense of melancholy pervades both the music and track titles. With its' dusty Polish samples and longing synths it immediately brings to mind Les Joyaux De La Princess. However this is colder, emptier, more wintery feeling. It is also reminiscent of Turband Sturmwerk and Land in places.
There are a few tracks which lose their individuality and blend into each other, and some failed to capture this reviewer's interest but overall this is a great album, many of the tracks stand out as worthy of repeated listens. Highly recommended to lovers of martial influenced dark ambient, and those looking for a fix to last them until the next LJDLP release.
—Rudolf Vavruch (Krokodil)
Links
Ghosts of Breslau
Order from Twilight Records