Ab Mortuus – Return Of The Sleepless
Saturday, 09 Aug 2008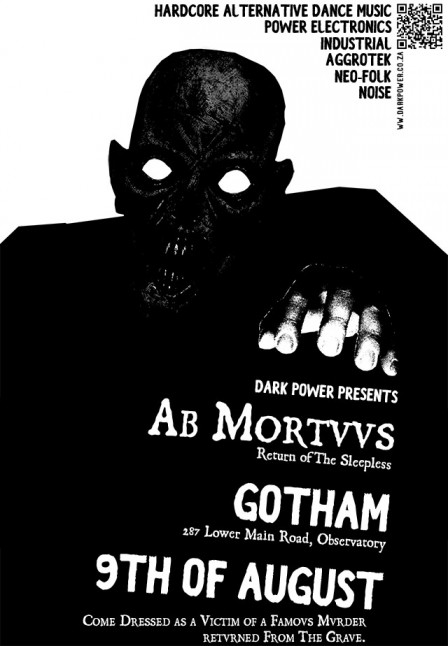 Zombie dress up party!
Come dressed as a victim of a famous murder returned from the grave. Victims of Jack The Ripper's blade. Witches tortured & burnt at the stake. Assassinated Presidents. The beautiful young victims of Elizabeth Bathory. All come back to take vengence on their murders!
At Gotham (299 Lower Main Road, Observatory, Cape Town—next door to Gandalfs), on Saturday, 9th August 2008. R20 gets you in, doors open at 9pm.
Setlists
Syrinx (tracks by)

Hysterisis

Leiche Rustical

HIV+

Asche

A7IE

Axxon

Haus Arafna

Proyecto Mirage
Holy Shit

Brighter Death Now

·

While You Sleep

Folkstorm

·

Swarm

Goatvargr

·

Goat Lord Rising

Sinequanon

·

Crimson Rd.

Maschinenzimmer

·

Mourning Star

Propergol

·

Voodoo Vault

In Slaughter Natives

·

As My Shield

Inner Vision Lab

·

Apocalypse

Puissance

·

Stance

Ab Ovo

·

Diaclase

Klinik & Vidna Obmana

·

Greed 6

Empusae

·

Urficae

Nordvargr

·

Npir

Inade

·

The end of the beginning
Krokodil

Ambassador21

·

Light My Fire

ESA

·

In Lust We Trust

KiEw

·

Degenerationsprogramm

Levoi Ravoi

·

Soul Into Brahma

Der Feuerkreiner

·

Oder Schrei

Corus Corax

·

In Taberna

Hedningarna

·

Min Skog

t_error 404

·

Killdozer

W.A.S.T.E.

·

Mediaface (vuxnut remix)

To Mega Therion

·

Purification Ritual

Folkstorm

·

Ty Han Är Min Soldat

Gae Bolg And The Church Of Fand

·

Morz Trai Ton Cor

Axxon

·

Machine (Rejoin The War)

Triarii

·

Wings Of Steel

SHNARPH!

·

Donnern Im Tal (Das Berghaus 2)

P.A.L

·

Agentenfister

100Blumen

·

What Kind Of A Man Are You?

Monomental

·

Soul Exhibition

Greyhound

·

Black Planet

Acylum

·

Glock 17

Ad·ver·sary

·

No Exit

EndZeit-Effekt

·

Noisehead Part II

Xotox

·

Industrial Madness

ESA

·

Cursing
Line up
Intro CD: HIV+ · We are all haunted houses

The infamous French musician leads us down dark decaying corridors of sound.

Terror_Binary

Aggrotek

Bang Bang Ballerina

Industrial · Power Noise · Electro

Syrinx

EBM · Electro Industrial

Krokodil

Rhythmic Noise · Martial Industrial · Apocalyptic Folk

Holy Shit

Power Electronics · Dark Ambient
Links