Chrysalide – Don't be scared, its about life
2011/07/10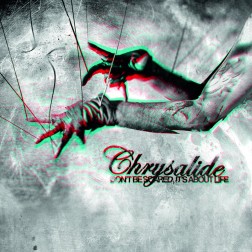 2011 sees French industrial/breakcore/ebm experimentalists Chrysalide release their second album Don't be scared, it's about life. Before I go into any more detail about what this album has to offer, let me just say…expect the unexpected. I find the music quite hard to classify…there is definitely a unique amalgamation of aural dissaray at work here. Sometimes it's simply mind-boggling, other times you're left with your skull feeling like its been violated.
The first song proper Traders must die begins predictably enough with a German sample…before hurling into what seems like a combination of hard industrial pulses and a breakbeat. The pace alternates constantly, but the angst doesn't let up. 'Cybernetic babies' with its curious name thuds at your senses with an assortment of bizarre hooks and synths.
All the while, hostile vocals are scattered across the audio landscape. One of my personal favourites I do not divert eyes has a ludicrously memorable rhythm that gnaws upon your lobes without restraint. There is genius at work here,that much is obvious. What's also apparent here is a hunger and desire to make music thats striking. Lets talk about this during dinner sounds like dementia made material but also offers something for the dance-floor. There's also Give me something stronger that presents another piece that will undoubtedly be played in clubs.
I can honestly say every single song stands out for me. No fillers and failed attempts at continuity, just a battering that doesn't stop until the 17th track is over. I could write a track by track review, but I think you need to just go get this CD and let it have its way with you. So much credit can be given to artists trying to do something different and pulling it off as convincingly as Chrysalide do. Remarkable and unforgettable.
—Kevin King (Terror_Binary)
Links
Chrysalide
Chrysalide on MySpace
Chrysalide on Facebook
Audiotrauma