Dark Power Gathering – All Hell Breaks Loose!
Friday, 26 Nov 2010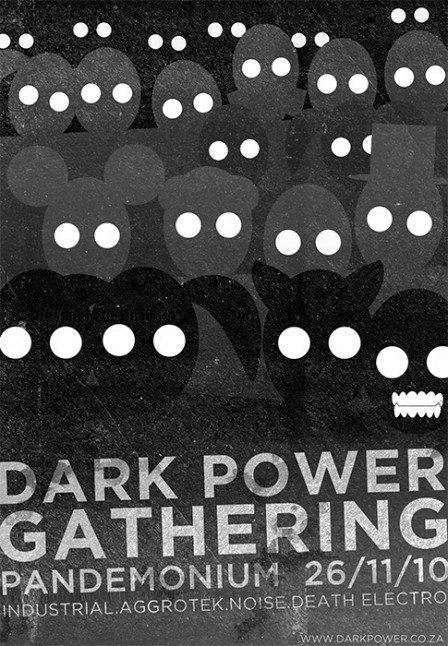 Dark Power is 21! This party marks the 21st Dark Power event, and they're only getting heavier.
Come enjoy the unique noisy Dark Power experience for the last time in 2010!
At Pandemonium (299 Lower Main Road, Observatory, Cape Town—next door to Gandalfs). Doors open at 9pm. R20 before 11PM, R30 after.
Setlists
Holy Shit

Xotox

·

Grenouille Mechanique

Detune X

·

Toolsuck

Fabric C

·

You are a Poser

Schwester Seziert

·

54TR

Imminent

·

Lorsc

Orphx

·

Vortex

Iszoloscope

·

In the Face of Descent

HIV+

·

Feedback

S.K.E.T

·

700,000 Tons to Wipe Out Humankind

100Blumen

·

A Las Barricadas

Nin Kuji

·

Minus Und Ergibt Plus

Powder Pussy

·

Fat Face

Powder Pussy

·

Ultrav

Monokrom

·

Faglork

Warbaby

·

Roll Call

5F-55

·

Break Bug
Krokodil

DBMG/RAF

·

Kalashnikov

C/A/T

·

Smashed

t_error 404

·

Killdozer

Xotox

·

Nasse Wände (original version)

ESA

·

Nerve Pattern

Screloma

·

Rosten

Alter Der Ruine

·

Batsmasher

Sona Eact

·

Engine Crash / One Bridge Too Far

t_error 404

·

Detonator

Xotox

·

Paderborn

Iszoloscope

·

In The Face of Descent

Menace Ruine

·

Omnia In Nihil

This Morn' Omnia

·

Momentum II

Nin Kuji

·

I Am The Myth

Zyankali

·

Intransigent

Dirty K

·

Nothing

Feindflug

·

Foltersequenz

Xotox

·

Minuszeit

Virtual Terrorist

·

Shattersphere

Zyankali

·

Come With Me

Sona Eact

·

Try Harder / Replace Your Disk

Asche

·

Wasted Hedon

C/A/T

·

Enemy Within [Unknown]

Imminent

·

Ruckus

Esplendor Geometrico

·

Sistema De Emision

Xotox

·

Pumpe / Düse

ESA

·

Cutslut

Feindflug

·

Kahle Bedrohung

C/A/T

·

Malice

Screloma

·

Jinx

Mono No Aware

·

Sora
Line up
Intro CD: TBC

Syrinx

EBM · Electro Industrial

Holy Shit

Power Electronics · Dark Ambient

Krokodil

Rhythmic Noise · Industrial · Martial Industrial

Terror_Binary

Aggrotek · Terror EBM

Bang Bang Ballerina

Industrial · Death-Electro · Electro-Industrial · Power Noise
Discuss this gathering on these sites: